Jobs
To submit Call for Artists, Job Opening, Internship, Board and/or Volunteer Opportunity for your organization, please CLICK HERE.   This is not an events calendar.
*Note: You MUST be a registered Partner to submit opportunity. (If you are not a registered Partner, please register to become a Partner (it's FREE and easy!).
JOB OPPORTUNITIES
Wigs Stylist, Goodspeed Musicals
Goodspeed Musicals seeks an immediately available Wigs & Hair Stylist to finish out our 2018 at The Goodspeed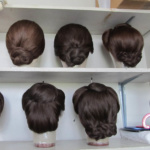 season.  Duties include hair/wig changes during performances, assisting the wardrobe department with quick changes, and performing maintenance on all wigs & facial hair.  Preferred candidates would have a knowledge of  period hair styling on both wigs & performers, and have experience working on full scale musicals. Professional theatrical experience in running quick changes and backstage tracking involving wigs, facial hair, and costumes is a must. Housing available for a weekly fee. Please send cover letter, resume and list of three references to jobs@goodspeed.org.  Deadline 9/8/18.
Art Teacher, Arts Center Killingworth at Spectrum Gallery, 61 Main Street in Centerbrook
Arts Center Killingworth has a job opening for a part time children's art teacher who would be available to teach after school art classes on Wednesdays and Thursdays for ages 7-12. Art teacher would also be asked to run children's art birthday parties and to start a Saturday morning children's art program. Curriculum would be set with the Executive Director. Enthusiasm and some teaching experience with children are required. This is a good position for a retired art teacher or artist who enjoys working with children but does not want to work full time. Please email inquiries to Barbara Nair at Barbara@spectrumartgallery.org, www.artscenterkillingworth.org
Electrics Apprentice/Spotlight Operator, Goodspeed Musicals
Goodspeed Musicals is seeking an ELECTRICS APPRENTICE/SPOTLIGHT OPERATOR for our Fall 2018 production of The Drowsy Chaperone. Duties include assisting Production Electrician in the care and maintenance of lighting equipment, participating in hang and focus, and operating a followspot for performances. More info: HERE   Deadline Sept. 1, 2018.
Library Director, Mystic and Noank Library
The Mystic and Noank Library seeks a dynamic, energetic and experienced leader/director with a strong commitment to quality library service. Excellent opportunity for someone with a passion for library services, a vision for the future, demonstrated leadership skills, strong interpersonal skills, proven financial management, and the ability to work with a small but dedicated staff. Located in the historic beautiful shoreline community of Mystic, Connecticut. For more information, click HERE
Application deadline Sept. 1, 2018.

Music Director, New London (CT) Community Orchestra
The New London Community Orchestra (NLCO) is a 35-member volunteer community orchestra established in 2011. NLCO performs two general audience concerts in New London and two concerts at local senior centers and/or assisted living facilities each year.  The mission of the New London Community Orchestra includes a strong commitment to music education. As part of our mission, we have established Music City Strings, an El Sistema-inspired program offering free violin and cello lessons for local students. Students from the Music City Strings program participate in our general audience concerts, including playing alongside the adult orchestra for at least one selection at each concert.  For additional information about the organization, refer to our website: www.nlcommunityorchestra.org.  The New London Community Orchestra is a 501(c)(3) nonprofit organization and an El Sistema USA member.  NLCO is seeking a Music Director for the adult community orchestra with strong organizational and interpersonal skills who works closely with the musicians, president, and the board of directors, and helps supports all aspects of our artistic and educational mission.  Position Type: Contract position. Reports to board of directors.  Rehearsals by Finalists: September 2018, dates and times TBD.  Click Music Director for detailed Position Description, Requirements and Qualifications, and how to apply.  Contact:  newlondonorchestra@gmail.com.   Applications due:  August 15, 2018.
Executive Director at Writer's Block
Through inspirational leadership, operational management and community and stakeholder engagement, the Executive Director (ED) will grow Writer's Block InK's (WBI) presence, partnership, revenue and participants to ensure the organization delivers on its goals and realizes its mission to develop young leaders who create social change through the arts. To learn about Writer's Block, click here. To apply, click here.
Wardrobe Supervisor at Goodspeed Musicals
Responsibilities include load-in and strike, dressing and quick changes, and costume maintenance. Hourly plus time and a half over 40 hours, housing available for a weekly fee, and the possibility to be eligible to apply for the Andrew A. Isen $5,000 Prize at Goodspeed Musicals. Preferred candidates would have experience working on full scale musicals. For more info and to apply, click here.
The Katherine Hepburn Cultural Arts Center- Old Saybrook
The Kate keeps a roster of sound and lighting technicians to join or supplement house crew. To be considered, send material and contact information to info@thekate.org with subject line "Kate Tech Crew."
Bar/Concessions Staff
The Kate is looking for enthusiastic individuals to join our Bar/Concessions staff. This position is part-time/as needed.  Scheduling is completed in month blocks at least 2 weeks in advance and is based on the Kate's production/show schedule.  This position requires evenings/weekends but has great flexibility in scheduling.  Shifts are typically 3-5 hours. Bar/Concessions Staff is responsible for preparing Bar/Concessions for shows, keep the space clean, Point of Sales system/handling money, and restocking.