Jobs
To submit Call for Artists, Job Opening, Internship, Board and/or Volunteer Opportunity for your organization, please CLICK HERE.   This is not an events calendar.
*Note: You MUST be a registered Partner to submit opportunity. (If you are not a registered Partner, please register to become a Partner (it's FREE and easy!).
JOB OPPORTUNITIES

Teaching Artist, Goodspeed Musicals
Goodspeed Musicals is seeking applications from TEACHING ARTISTS as part of our Arts Education Collaboration. Goodspeed Teaching Artists lead in-school residencies and assist with partner schools' visits to the Goodspeed campus. Principle duties and responsibilities: teach AEC curriculum to Connecticut partner school students in elementary, middle, and high school following the lesson plans provided by the Education Director; represent Goodspeed Musicals positively to partner institutions; assist with schools' field trips to the Goodspeed campus. More info: https://bit.ly/2NZPsOO
Ushers, Goodspeed Musicals – The Terris Theatre
Goodspeed Musicals is looking for hard-working, responsible, and cheerful people who enjoy working with the public. Flexible part-time paid positions on evenings and weekends as well as Wednesday/Thursday afternoons. More info: https://bit.ly/2NZPsOO
Box Office, Goodspeed Musicals
Seeking a box office representative to sell tickets and provide information about our organization's events, in person at the box office and by phone. Must be comfortable working with a computerized ticketing system, have a professional demeanor, and provide superior customer service. Part-time position includes weekdays, weekends and some evenings. 15-20 hours per week through December. Send cover letter and resume to jobs@goodspeed.org . No phone calls. (posted 8/28/18)
Capital Campaign Manager, Goodspeed Musicals
The Capital Campaign Manager reports to the Director of Development and the Executive Director and is responsible for day-to-day management of Goodspeed's capital campaign including solicitations, records, external reporting, and research. He/she will provide support for the Director of Development and Executive Director and participate actively in strategic and tactical planning for the Capital Campaign. A qualified candidate will be able to manage key responsibilities and tasks of the position including: support the Board of Trustees, Executive Director, campaign leadership and Director of Development in qualifying, cultivating, soliciting, and stewarding major gift prospects and donors; maintain a portfolio of approximately 100 donors to solicit for specific campaign gifts; manage and continually refine campaign prospect pool; and conduct and analyze prospect research. 32 hours per week; one–year, renewable contract. Click HERE for more info.
(Posted 9/2/18)
Costume Rental Assistant, Goodspeed Musicals
 Goodspeed Musicals is immediately seeking to hire a part time Costume Rental Assistant to work at our Cynthia Kellogg Barrington Costume Center.  Responsibilities include assisting our Costume Rental team with the administrative and physical responsibilities of renting and maintaining the costume collection. Seeking candidates who are fast paced, quick learners, and confident working in Microsoft Word and Excel, can lift at least 40 lbs, able to climb 2 flights of stairs and comfortable working at heights up to 12 feet. Hourly plus overtime and preferred candidates would have a good general knowledge of period clothing, costumes, and fashion.  To apply, submit cover letter, resume, availability and list of three references to jobs@goodspeed.org.
Props Run Crew Head, Goodspeed Musicals
For Goodspeed Musicals' production of A Connecticut Christmas Carol at The Terris Theatre in Chester, CT. Seeking candidates with excellent prop maintenance skills, ability to lift at least 40lbs up several flights of stairs, good endurance for extremely physical eight-shows-a-week props track, and a positive attitude. Candidates must be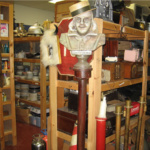 available November 18 through December 31, 2018 (excluding Thanksgiving Day and Christmas Day). Ability to work December 24 and 26 is a must. Hourly wage plus overtime. To apply, submit cover letter, resume, availability, and list of three references to jobs@goodspeed.org.  (posted 8/28/18)
Art Teacher, Arts Center Killingworth at Spectrum Gallery, 61 Main Street in Centerbrook
Arts Center Killingworth has a job opening for a part time children's art teacher who would be available to teach after school art classes on Wednesdays and Thursdays for ages 7-12. Art teacher would also be asked to run children's art birthday parties and to start a Saturday morning children's art program. Curriculum would be set with the Executive Director. Enthusiasm and some teaching experience with children are required. This is a good position for a retired art teacher or artist who enjoys working with children but does not want to work full time. Please email inquiries to Barbara Nair at Barbara@spectrumartgallery.org, www.artscenterkillingworth.org
Executive Director at Writer's Block
Through inspirational leadership, operational management and community and stakeholder engagement, the Executive Director (ED) will grow Writer's Block InK's (WBI) presence, partnership, revenue and participants to ensure the organization delivers on its goals and realizes its mission to develop young leaders who create social change through the arts. To learn about Writer's Block, click here. To apply, click here.
The Katherine Hepburn Cultural Arts Center- Old Saybrook
The Kate keeps a roster of sound and lighting technicians to join or supplement house crew. To be considered, send material and contact information to info@thekate.org with subject line "Kate Tech Crew."
Bar/Concessions Staff
The Kate is looking for enthusiastic individuals to join our Bar/Concessions staff. This position is part-time/as needed.  Scheduling is completed in month blocks at least 2 weeks in advance and is based on the Kate's production/show schedule.  This position requires evenings/weekends but has great flexibility in scheduling.  Shifts are typically 3-5 hours. Bar/Concessions Staff is responsible for preparing Bar/Concessions for shows, keep the space clean, Point of Sales system/handling money, and restocking.