Art at the Airport
The Cultural Coalition and Connecticut Airport Authority (CAA) have inaugurated an art in the airport program at Groton – New London Airport.
The program's purpose is to showcase the region's uniqueness, history, industry, culture and geography through visual arts in the airport's main terminal located at 155 Tower Avenue in Groton.
The Southeastern Connecticut Cultural Coalition and the CAA seek arts or community organizations, with desire and ability to take advantage of an off-site exhibit space that engage new audiences, and who voluntarily partner in this endeavor. (For more information, click
HERE
.)
We are proud to announce that the 2018 calendar for exhibits is full!   
PRESS RELEASE
Opening June 1 at Groton – New London Airport!
Life Without Limits Art Exhibit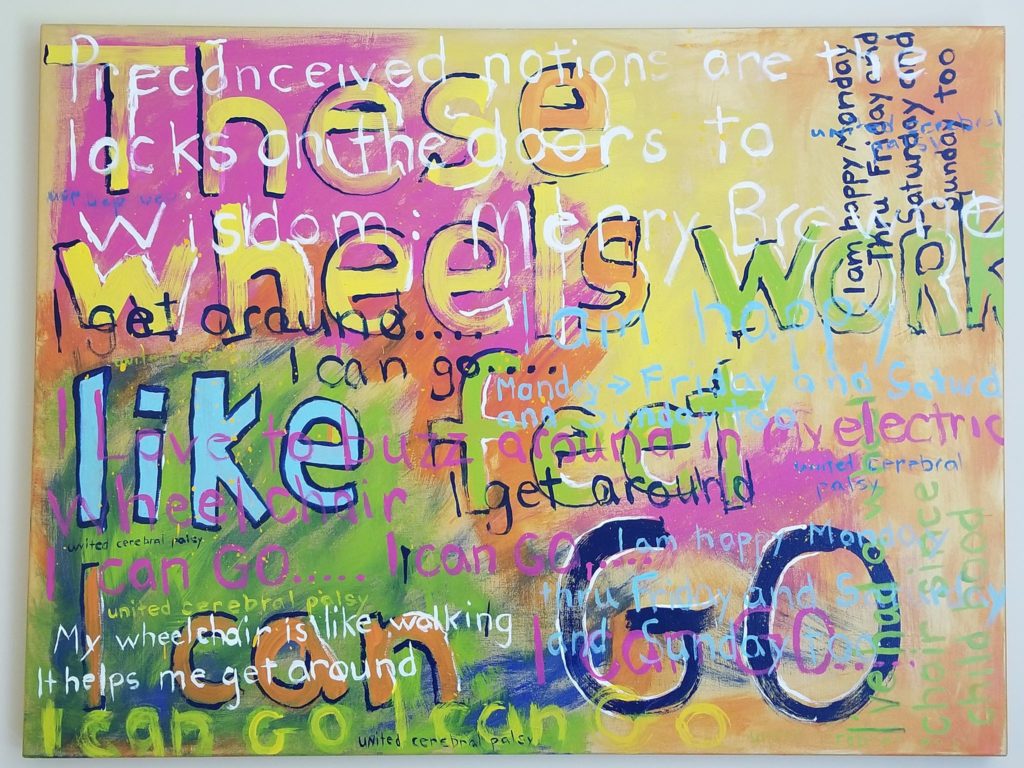 United Cerebral Palsy of Eastern CT (UCP), a Waterford-based organization, will showcase pieces of art in a variety of mediums including mosaic, sculpture, and paint on canvas. The artists are individuals with disabilities who, along with staff UCP staff members, work together to create one piece of artwork annually to display at the Hygenic Open Art Exhibit.
This exhibit is a collection of work created over the years. All artwork is a collaboration between the people making the piece, from its initial conception to completion. Individuals participate in any way they can, whether making a choice about paint color using an eye gaze or physical participation using a hand over hand technique. The art program at UCP enables each person to express his or her unique talents in a manner that makes it accessible to them.
An artists reception will be held at the Groton – New London Airport on Monday, June 25 from 4pm to 6pm, in the airport's main terminal located at 155 Tower Avenue in Groton. The public is welcome. 
About United Cerebral Palsy of Eastern CT
UCP of Eastern CT provides direct service and supports to people with disabilities.
UCP has program locations in Waterford, Old Saybrook, Groton and provides in home and employment supports to people across the Eastern part of CT. UCP's mission is to advance the independence and full citizenship of individuals across a spectrum of disabilities, including Cerebral Palsy.
Previously on exhibit at Groton – New London Airport
John Meyer of Norwich: An American Original
The Slater Memorial Museum of Norwich Free Academy presents John Meyer of Norwich: An American Original.  Throughout Connecticut and beyond, women fondly remember John Meyer of Norwich.  Now considered classics of 20th Century design and function, his line of clothing featured everything from "Bermuda" shorts to preppy A-line skirts, Argyle to Fair Isle sweaters.  John Meyer of Norwich was an innovator in fashion for an emerging demographic of career women and college girls.  Working with other technological innovators, he revolutionized the garment manufacturing process, introducing cutting-edge methods still used today.  In addition, John Meyer's factory and design business provided employment to dozens of Norwichians.  The exhibited panels reveal the person and the company.