Northeast Region
NORTHEAST REGION DRSO
In January 2021, the CT Office of the Arts announced the Southeastern CT Cultural Coalition will serve as COA's Designated Regional Service Organization (DRSO) for the following towns in Windham and Tolland Counties while spearheading a regional arts and cultural assessment process.
Towns Served:  Ashford | Brooklyn | Canterbury | Chaplin | Columbia | Coventry | Eastford | Hampton | Killingly |  Mansfield | Plainfield | Pomfret | Putnam | Scotland | Stafford | Sterling | Thompson | Union| Willington | Windham | Woodstock
Over the next 12-18 months, as part of a strategic process, the Cultural Coalition will meet with artists, arts and cultural businesses, community organizations, municipal leaders and economic development agencies located in/or serving these towns. Monthly public roundtables will be hosted virtually to gather information, hear from constituents, and provide information to respond to the needs of Northeastern CT's creative sector. The Cultural Coalition's core programs and services will be available virtually and the Cultural Coalition will work closely with the Connecticut Office of the Arts throughout this process.
The Connecticut Office of the Arts (COA) partners with Designated Regional Service Organizations (DRSO) that serve as local field offices to constituents and citizens. This statewide network of service providers plays a key role that is mutually beneficial to the state's citizens and creative economy, the regional arts and cultural infrastructure, and COA's goals, programs and services.
Northeast Region Coordinator 
Charlene Haukom is the organization's Northeast Region (NER) Coordinator. Ms. Haukom joined the Cultural Coalition to connect with artists, arts & cultural businesses, community organizations, and municipal and economic development leaders in twenty-one northeastern CT towns.  She serves as the liaison to the region, assess the arts & cultural landscape, and extend the Cultural Coalition's programs and services to the creative community.  Read More
REGISTER as a "Northeast Member"
From sole proprietors, artists and historic site operators, to museums, galleries, cultural attractions and arts centers, the Cultural Coalition includes a diverse cross section of 550+ nonprofit and for-profit individuals, businesses, groups and organizations. The Cultural Coalition is a free membership organization.
If you have not already done so, register using this link below so that we can learn more about you and to join our contact list to receive Cultural Coalition communications, learn about opportunities, and notifications about upcoming activities. Northeastern CT Arts & Culture Contact Registration Form.
NEXT ROUNDTABLE:

Thursday, February 23 from 1:00 to 2:00 PM
In person at The Library Express.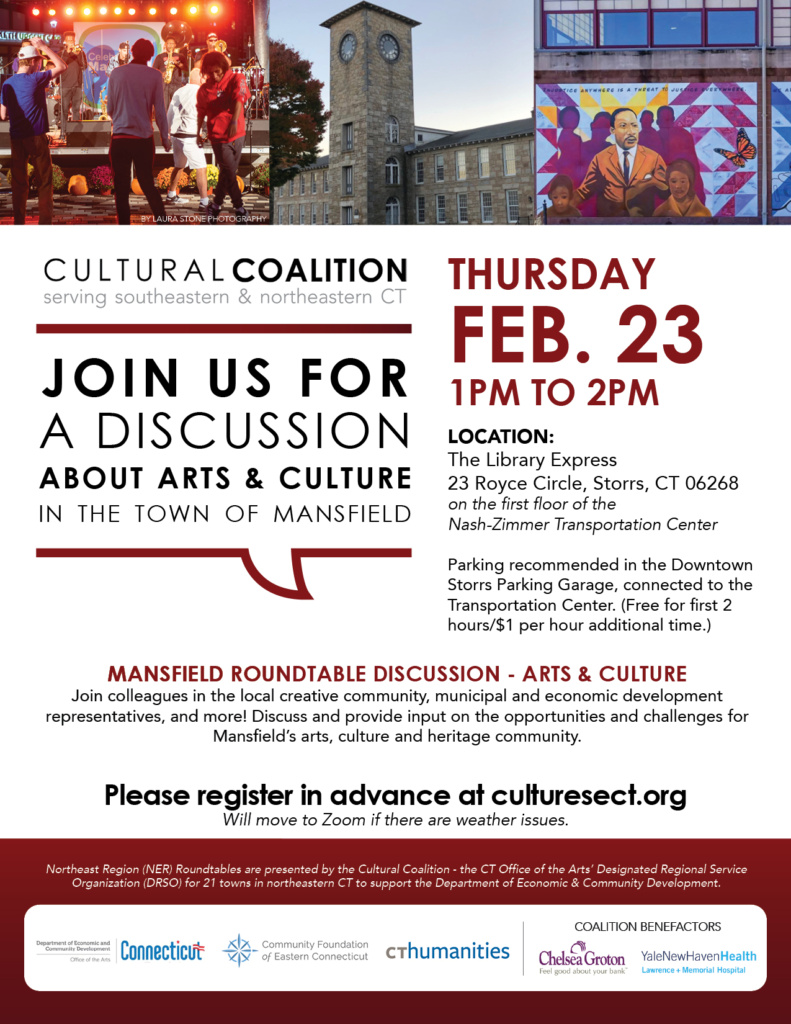 Check back for information about March dates/topics.
---
ROUNDTABLES IN 2023:
January 10, 2023 – Attention Artists!
Assets for Artists staff discusses new Capacity-Building Grant Program for CT artists (in partnership with CT Office of the Arts).
Stay for the Funding Booster Program Monthly Drop-in Clinic

---
Roundtables in 2022:
January 27, 2022 – Arts, Culture & Tourism in northeast CT
a discussion with state leaders (CT Office of the Arts, CT Humanities, Office of Tourism)
February 24, 2022 – Municipal Economic Development & Creative Placemaking
speakers from several towns and organizations shared examples of collaborations and projects
May 5, 2022 – Part 1 of 3-Part Series: Focus on Nonprofits
This roundtable focused on nonprofits with the Cultural Coalition's Funding Booster Coordinator Jessica Morozowich as the guest speaker. Jess covered: Financial Management, Partnerships/Collaboration
Programming: Are you READI (Relevant, Equitable, Accessible, Diverse, and Inclusive)?, Volunteer Staff, and Board Oversight
May 26, 2022 – Part 2 of 3-Part Series: Focus on Artists
The roundtable focused on individual artists with guest speakers from Assets for Artists. Director Blair Benjamin and Grants and Workshop Coordinator Briana Halpin joined us to share information on their residency program, The Studios at MASS MoCA, and free professional development workshops available to artists in northeastern Connecticut.

June 23, 2022 – Part 3 of 3-Part series: Focus on Creative Businesses 
September 21, 2022 – CT Cultural Fund Grant Information Session with CT Humanities