THRIVE! 2022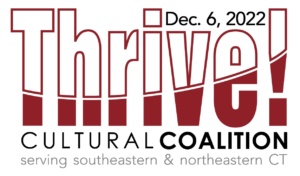 TUESDAY, DECEMBER 6, 2022
8:00 am – 3:30 pm –  Conference
Mashantucket Pequot Museum & Research Center
View & download the Event Program Book
THRIVE photo gallery on linked page HERE
For the third time, the community involved in creating, promoting and supporting arts / culture / history in eastern Connecticut came together for one big event!  THRIVE!  is a conference for all of the Cultural Coalition's partners/members to gather, share, learn, and celebrate our community.
In 2022, we were honored to have the Mashantucket Pequot Museum & Research Center and members of the Mashantucket Pequot Tribal Nation help us co-create this biennial event centered on a theme of Healing.  Through partnership and collaboration, the conference highlighted stories and issues from the arts & cultural community, and catalyzed challenging conversations in this era of pandemics, racial & social justice, and equity. 
Tickets to THRIVE! 2022 had a suggested amount of $75 each and "Pay What You Can Afford" option was available for single tickets and for organizations/businesses that would like to send more than one representative (team/staff/volunteers). This option was made possible by CT Humanities and our event sponsors.
THRIVE 2022 photos coming soon!
---
Schedule
8:00-8:30 am – Attendee Arrival with optional "Smudge"
Smudging is a common ceremonial ritual among indigenous people, held closely within these cultures to
purify, spiritually cleanse, rid physical spaces of negative energy, and bless.
8:00-9:00 am – Registration – Coffee & Connections – Resource Tables – Attendee Info Swap
8:45-9:00 am – Gallery Talk with Angel Smith
9:00-9:15 am – Welcome & Opening
9:15-10:00 am – What Healing Means From The Northeastern Woodland Culture Perspective (Mashantucket Pequot Tribal Nation)
10:00-10:15 am – Transition to Breakout Sessions
10:15-11:15 am – Breakout Sessions (attendees choose one)
11:15-11:30 am – Transition to Auditorium
11:30-12:30 pm – Morning Panel Discussion – Building Local & Municipal Support for the Creative Economy
12:30-1:30 pm – Lunch & Community Building
1;30-1:45 pm – Resource Tables & Attendee Info Swap
1:45-2:15 pm – 'Cultural Intelligence' Workshop Informational
2:15-3:15 pm – Afternoon Panel Discussion – Cultural Community Building & Healing
3:15-3:30 pm – State Troubadour Performance & Closing Comments
All Day
8:30-3:30 pm – Attendee Info Swap (bring/pick up brochures, flyers, etc.)
8:30-3:30 pm – Resource Tables
8:30-3:30 pm – "The Indigenous Peoples Project: The Mashantucket (Western) Pequot Women" exhibit on view in Museum Gallery
________________________________________________________________________
Coffee & Connections
Meet peers, network and connect with resources. Representatives from the below organizations will be on hand to provide information, answer questions and share upcoming opportunities.
CT Office of the Arts
CT Humanities
Mashantucket Pequot Museum & Research Center
New England Foundation for the Arts
CT Women's Business Development Council
Assets for Artists/Mass MoCA
Chelsea Groton Bank
Garde Arts Center
Congressman Joe Courtney's Office
Cultural Coalition's Funding Booster Program
---
Tickets – Pay What You Can Afford
Advance ticket(s) purchase and registration is required by Nov. 29th (no late registrations or walk-ins).
Tickets include access to all conference activities, coffee & tea, seated buffet lunch, and custom tote bag for event "Attendee Info Swap" materials.
You have the option to "pay what you can afford" in order to be able to attend and/or have a team of representatives attend from your business/organization.
This option has been made possible with support from CT Humanities and our event sponsors.
Suggested Amounts:
1 Ticket $75
2 Tickets $125-$150
3 Tickets $150-$225
4 Tickets $175-$300
5 Tickets $225-$375
Ticket sales/registration close on Nov. 29th.  Registration & Ticket Sales Close Wednesday, Nov. 30 at 5pm.
Ticket Purchase and Event Registration is a two-step process. First, complete the registration form and upon submission you will be redirected to our payment page. Your registration is not complete without both.
REGISTRATION & TICKET SALES HAVE CLOSED
---
2022 Speakers 
Breakout Sessions – Attendees choose one of three available sessions, including:
Breakout Session #1 – Pandemic Learning Lessons & Community Impact – How have some in the arts and cultural community embraced innovation and reinvented themselves during these difficult times. How do we assess and learn from these lessons? In what way will they impact the future of how we serve our communities?
With: Scott Wands (CT Humanities); Diane Barcelo (Artist, Pivot Exhibition); Eileen Donovan (Lyman Allyn Art Museum)
Breakout Session #2 – Addressing Racial & Social Justice through Arts & Culture –  "Sankofa" is an African word from the Akan tribe in Ghana, meaning "go back and fetch it" or "the past serves as a guide for planning the future." Some communities are publicly honoring BIPOC history through art and culture. What does it mean to do this work, what are the challenges, what is the impact, and how can it be done in an authentic way?
With: Adam Bowles (Castle Church/Norwich Jubilee Project); Shiela Hayes (NAACP Norwich/Sankofa Education & Leadership/Public Art for Racial Justice); Emida Roller (Artist)
Breakout Session #3 – Best Practices for Artist Self-Advocacy and Healthy Partnerships – Drawing from the theme of 'healing', this session will present some of the ways we have developed practical tools for self-advocacy and boundary-setting for improved partnerships, collaborations, and work environment. There will also be time to open the conversation up to the room for attendees to share their own experiences as a way to heal from extractive relationships while simultaneously building community and solidarity with one another.
With: Molly Rideout and Elizabeth Moy (Assets for Artists, Massachusetts Museum of Contemporary Art), Dot Burnworth (Artist/Saw Mill Pottery), Angel Beth Smith (Artist/The Indigenous People's Project)
Morning Panel Discussion – Building Local & Municipal Support for the Creative Economy – How and why arts and culture could and should be at the forefront of healing our communities. How does government infrastructure support the creative community? How can CT's new Cultural Districts be a vehicle?
Moderated by Elizabeth Shapiro, CT Office of the Arts with Panelists Felix Reyes (Director of Economic Development & Planning, City of New London); Cierra Patrick (Economic Development Manager, City of Groton); Lisa Konicki (President, Ocean Community Chamber of Commerce); Cynthia van Zelm (Executive Director, Mansfield Downtown Partnership) and Kevin Brown (President & Executive Director, Norwich Community Development Corporation)
Afternoon Panel Discussion – Cultural Community Building & Healing – What does cultural community building and healing look like in our region? What is needed to move the needle and what needles are we trying to move? Who is actively engaging in equity centered work? How do you create authentic partnerships?
With Joshua Carter (Executive Director, Mashantucket Pequot Museum & Research Center), Kia Baird (Outreach & Impact Coordinator, Cultural Coalition), Kolton Harris (Program Associate, CT Office of the Arts), Kala Farnham (State Troubadour, Certified Crisis Counselor), and Swaranjit Singh Khalsa (Sikh Art Gallery)
MPMRC 'Cultural Intelligence' Workshop Informational – The four areas of primary focus within MPMRC Cultural Intelligence (CQ) Workshops are Culture-focused Knowledge, Trauma-based Knowledge, Historic Knowledge and Emotional Intelligence with each topic presented from a Native American perspective. Within the MPMRC CQ Workshop, these four learning components are added to an understanding of the science behind, and the potential impacts of, a modern focus upon Cultural Intelligence.
Closing Performance by State Troubadour Kala Farnham
---
THANKS TO OUR SPONSORS!   
THRIVE! 2022 PRESENTING & MAJOR SPONSORS