Funding Booster Program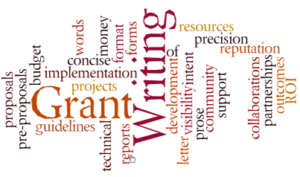 Our FUNDING BOOSTER PROGRAM provides monthly drop-in grant clinics, workshops, consulting, online resources, peer-to-peer resource sharing, and technical support to improve our region's arts and cultural sector's ability to capitalize on local, state, New England and federal grant opportunities. 
Under our leadership, this program partners with CT Office of the Arts, Community Foundation of Eastern CT, CT Humanities, New England Foundation for the Arts and Office of U.S. Rep Joe Courtney, CT 2nd District.
Our Funding Booster Program aims to improve the arts and cultural sector's ability to apply for and win grants and to increase state, regional and federal funding to the creative sector in our region.
SIGN UP FOR FREE! To receive information and notifications about our Funding Booster Program grant clinics, grant opportunities, available technical support, and grant news.
If you are a registered Cultural Coalition member (Southeast Region Partner or Northeast Region Contact), sign up to participate in the FREE Funding Booster Program so we can help you apply for and win grants, click HERE.
---
NEXT ACTIVITIES:
Funding Booster Drop-In Clinic: Tuesday, Oct. 11 from 10-11am on Zoom
See the October topic and clinic information on the flyer below.
Register HERE for zoom link.
Following the clinic, individual appointments (20 min.) available upon request.
Contact Jessica at fundingbooster@culturesect.org to schedule in advance.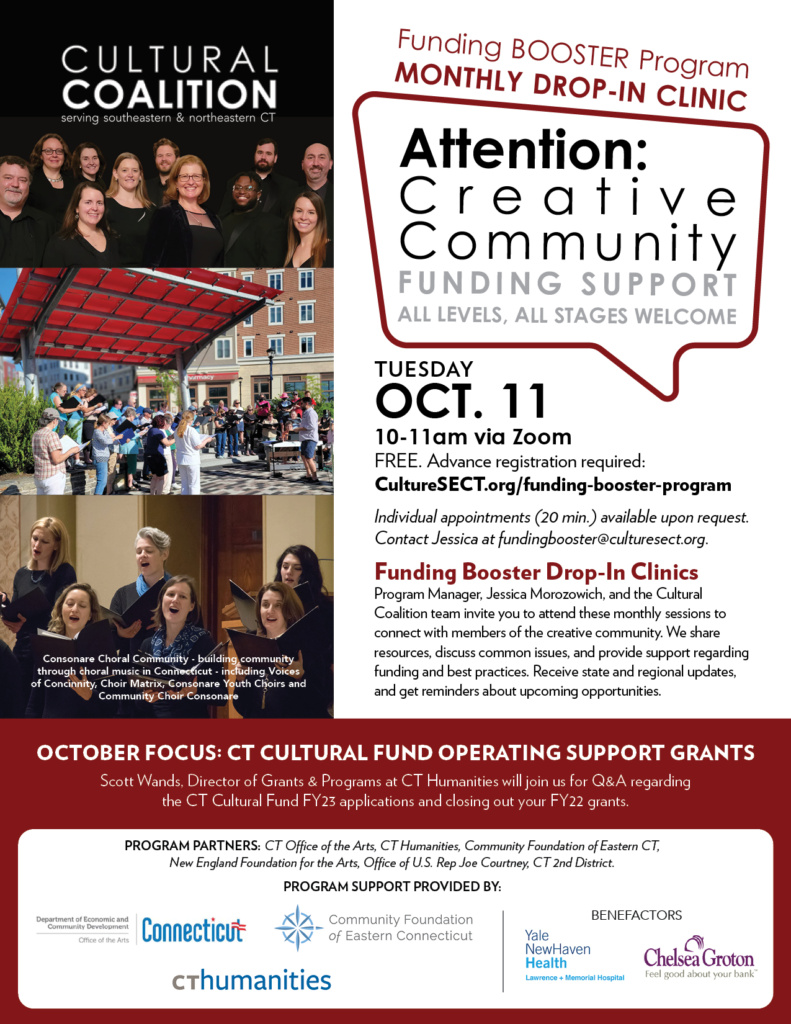 ---
RECENT ACTIVITIES:
Grantmakers & Funders Forum – Sept. 27, 2022
Run time: 1 1/2hrs.
Event Recording coming soon.
Grant Writing 101 workshop – March 24, 2022
sponsored by Chelsea Groton Bank in partnership with the Cultural Coalition's Funding Booster Program
Presentation slides HERE
NEA Challenge America grant program Info Session – March 8, 2022
Run time: approx. 1 hour
Event Recording HERE
Access Passcode: 4a^dsW!Y

"What does it mean to be READI?"  Event Recording – Feb. 8, 2022 
Run time: approx. 1 hour
https://us02web.zoom.us/rec/share/fW139QDHMhu2KvD_jniVJA_szORhiXPi-bBZmW1TmhvdbYLSglmdCVMaS61XAFNp.GxmJ_5e4fzdABzwN
Access Passcode: T!FG#8++