Grants
Grant Opportunities

CT Office of the Arts (COA) FY2019 Grants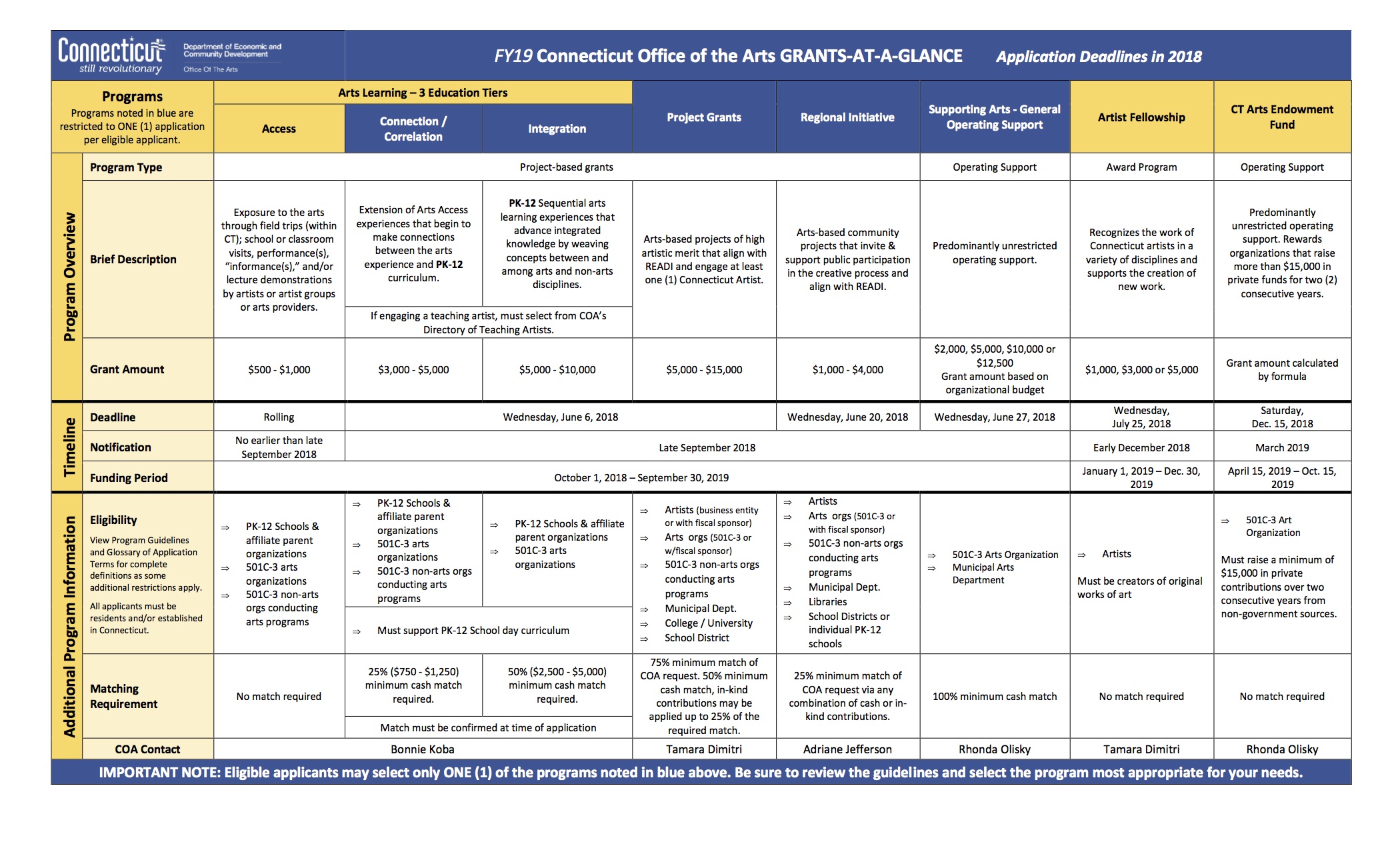 National Endowment for the Arts (NEA)
National Endowment for the Arts (NEA)- Art Works To support the creation of art that meets the highest standards of excellence, public engagement with diverse and excellent art, lifelong learning in the arts, and the strengthening of communities through the arts. Matching grants generally range from $10,000 to $100,000.
Challenge America-To support projects that extend the reach of the arts to underserved populations. Matching grants are for $10,000.
Our Town– Organizations may apply for creative placemaking projects that contribute to the livability of communities and place the arts at their core.
Our Town offers support for projects in two areas: Arts Engagement, Cultural Planning, and Design Projects that represent the distinct character and quality of their communities. Matching grants range from $25,000 to $200,000.
Projects that Build Knowledge About Creative Placemaking. Matching grants range from $25,000 to $100,000.
For more information, click here.
Connecticut Humanities granting programs provide critical support for the state's cultural organizations. Applications are encouraged for projects that: include significant humanities scholarship and content; incorporate project evaluation that is measured against clearly defined goals; reach broad audiences; address social issues through humanities disciplines; foster collaboration among organizations; and encourage heritage tourism
New England Foundation for the Arts (NEFA)
NEFA offers grants to artists and organizations to support the creation and presentation of work. Other opportunities and resources that connect and strengthen the creative sector include online tools, convenings, and research publications.
New England States Touring (NEST)– New England States Touring (NEST) provides support to New England-based nonprofit organizations (known as presenters) for performances and community activities by select New England performing artists.
---