NEFA CCX 2017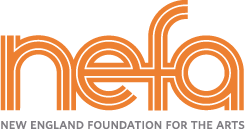 The CCX is a peer-to-peer exchange of the strategies used in successful creative economy initiatives around New England. CCX professional development workshops are for New England leaders who are engaged in creative economy and creative placemaking projects that leverage their local creative sector for the revitalization and growth of their broader community.
CCX 2017 will take place June 8 & 9th in New London, Connecticut, where arts and cross-sector leaders are forging strategic and surprising synergies across southeastern Connecticut to meet the economic and community development needs of today and plan for the future.
To learn more about CCX and register to attend, click HERE.
NEFA attendees will have the opportunity to explore and experience what New London and Southeastern CT has to offer! Special activities, events, and projects are being planned for New London to coincide with CCX (Thursday & Friday) and the weekend following.
For news, calendar of events, and local activities, visit: www.NewLondonMainStreet.org.
Local Activities for NEFA CCX Attendees
Water, wheels (Segway, that is), and walking tours will be available to NEFA attendees so you can see the rich arts, culture and heritage in the Whaling City! Plus, much, much more. Details coming soon!
Wheeling City Tours- Segway Tours of Downtown New London
Thursday, June 8th
$40 advance purchase ($60 normally)
We'll glide around Waterfront Park, Downtown New London and Fort Trumbull, enjoying views of New London, Groton, the Thames River and Long Island Sound.
You'll learn a little bit about New London's history, art and architecture, get some local tips on where to eat, drink and shop, and have a whole lot of fun!
(Registration link coming soon)
New London Landmarks Walking Tour
Thursday, June 8th
$15
(Details and registration link coming soon)
Thames River Heritage Park River Cruises
Four Centuries in 90 Minutes-Thames River Heritage Park Water Tour
Thursday, June 8th, 6:30 p.m.
City Pier Landing (behind Union Station)
$30/pp (minimum of 12 people needed)
Cruise along the Thames River and witness the region's history in her Forts, Shipyards, Factories, Colleges, and Residences. You'll get a sense of the role this beautiful waterway played in shaping America's story while enjoying a ride on an historic navy utility boat. NEFA participants can also enjoy the hop-on hop-off water taxi on regularly scheduled trips throughout the weekend stopping at three landings in New London and Groton.
For tickets and info, click HERE.
New London Maritime Society Boat Tours
Tours include free daytime admission to the Custom House Maritime Museum
One hour Sunset Boat Tours
Wednesday- Saturday
Explore the region's lighthouses as the sun sets, with the one who knows them best.
Max 6 people per tour (3 person minimum)
$35 NEFA CCX attendees
One hour Full-Moon Boat Tours
Wednesday- Saturday
Dusk is a beautiful and quiet time to be on the water. This lighthouse tour leaves New London as the sun goes down to view our local lighthouses at night, we they were built to be seen.
Max 6 people per tour (3 person minimum)
$35 NEFA CCX attendees
One hour New London Lighthouse Harbor Tours
Friday
Take a memorable 55-minute ride to view the three picturesque lighthouses of New London Harbor
Max 6 people per tour (3 person minimum)
$35 NEFA CCX attendees
Connecticut Landmarks and Hempsted Houses
Juneteenth Celebration
Saturday, June 10th from noon to 4pm
Free
Juneteenth commemorates the end of slavery in the United States announced by Union soldiers in Galveston, Texas with news that the Civil War had ended and that the enslaved were now free. The celebration will feature storytelling, drumming, gospel music and dance – and a dash of history – with art making opportunities for children and adults and tabling by New London's non-profit community.
Admission to the Hempsted Houses and Juneteenth is FREE as part of CT Open House Day.
Event Information
More events and activities coming soon!