NEFA CCX 2017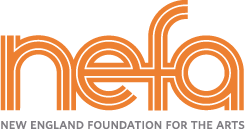 The CCX is a peer-to-peer exchange of the strategies used in successful creative economy initiatives around New England. CCX professional development workshops are for New England leaders who are engaged in creative economy and creative placemaking projects that leverage their local creative sector for the revitalization and growth of their broader community.
CCX 2017 will take place June 8 & 9 in New London, Connecticut, where arts and cross-sector leaders are forging strategic and surprising synergies across southeastern Connecticut to meet the economic and community development needs of today and plan for the future.
To learn more about CCX and register to attend, click HERE. (EVENT IS SOLD OUT)
NEFA attendees will have the opportunity to explore and experience what New London and Southeastern CT has to offer! Special activities, events, and projects are being planned for New London to coincide with CCX (Thursday & Friday) and the weekend following.
For news, calendar of events, and local activities, visit: www.NewLondonMainStreet.org.
For events and activities in our region, Mystic Country, visit www.ctvisit.com/mystic
LOCAL ACTIVITIES FOR CCX ATTENDEES
Water, wheels (Segway, that is), and walking tours will be available to NEFA attendees so you can see the rich arts, culture and heritage in the Whaling City! Plus, much, much more.
Wall to Wall: Streetside with New London Mural Walk Artists – Self-Guided Tour with Virtual Docent
79 State Street
Anytime, Free
Underwater spacemen, exotic shells, geometric shapes, community portraits, musicians, mosaics and much more are part of your six block walking tour of New London, Connecticut. You will discover the work of internationally acclaimed artists as well as aspiring local artist reflecting the rich cultural diversity of this small historic city on the Long Island Sound.
The walk, lasting from thirty minutes to an hour, will bring you past national landmark buildings from New London's past as well as the more recently created 'Whale Tail' fountain on The Parade Plaza.
Streetside with New London Mural Artists presents the artists behind the New London murals.
It is a collaboration between New London mural artists, building owners, Hygienic Art, and the Ammerman Center for Arts and Technology at Connecticut College, produced by Virginia Gresham '17 with CamelTours.org. This self-guided tour is, to our knowledge, the largest cohesive, technology-aided mural walk in all of New England.
Wheeling City Tours- Segway Tours of Downtown New London
Thursday, June 8th 6:00 pm and 7:30 pm
$40 advance purchase ($60 normally)
We'll glide around Waterfront Park and Downtown New London, enjoying views of New London, Groton, the Thames River and Long Island Sound. You'll learn about New London's history, art and architecture, get some local tips on where to eat, drink and shop, and have a whole lot of fun!
Check out our website at www.WheelingCityTours.com where you can get answers to all kinds of questions about gliding on a Segway.
Tour begins at 36R Bank Street, which is located in the rear of 36 Bank Street
To book the special 6:00 pm NEFA CCX tour click on THIS LINK.
To book the special 7:30 pm NEFA CCX tour click on THIS LINK.
New London Landmarks Walking Tour
Thursday, June 8th, 6:00 pm
$15 (payable by cash or check at beginning of tour)
Meet at 6:00 p.m. at the statue of Eugene O'Neill behind Union Station. From there, New London Landmarks board member Don Presley will lead us down Bank Street to Shaw Mansion. Along the way, we'll learn the whaling-era stories of twelve buildings, including the home of a prominent sea captain and the home of "the most dissipated man in New London."
For general information, visit https://www.newlondonlandmarks.org/programs-and-walking-tours

Four Centuries in 90 Minutes-Thames River Heritage Park Water Tour
Thursday, June 8th, 6:30 pm
City Pier Landing (behind Union Station)
$30/pp (minimum of 12 people needed, deadline to purchase is June 7th)
Cruise along the Thames River and witness the region's history in her Forts, Shipyards, Factories, Colleges, and Residences. You'll get a sense of the role this beautiful waterway played in shaping America's story while enjoying a ride on an historic navy utility boat. NEFA participants can also enjoy the hop-on hop-off water taxi on regularly scheduled trips throughout the weekend stopping at three landings in New London and Groton.
For tickets and info, click HERE.
One hour New London Lighthouse Harbor Tours- New London Maritime Society
Custom Maritime Museum, 150 Bank Street
Friday, June 9, on the hour from 1 to 5 pm
Max 6 people per tour (3 person minimum)
$$40, $35 NEFA attendees, $30 children age 14 and younger
Take a memorable 55-minute ride to view the three picturesque lighthouses of New London Harbor: New London Harbor 'Pequot' Light a classic octagon, the oldest and tallest lighthouse on Long Island Sound; 1909 brick New London Ledge Light, reputed home to Erie the ghost; and Avery Point Light built in 1943, the newest & smallest lighthouse in Connecticut. Boat tour includes free admission to the Custom House Maritime Museum.
For tickets and info, http://www.brownpapertickets.com/event/2820779
One hour Sunset Boat Tours- New London Maritime Society
Custom Maritime Museum, 150 Bank Street
Wednesday, June 7, 7:15-8:15 pm
Thursday, June 8, 7:15-8:15 pm
Friday, June 9, 7:15-8:15 pm
Saturday, June 10, 7:30-8:30 pm
Max 6 people per tour (3 person minimum)
$40, $35 NEFA attendees, $30 children age 14 and younger
Explore the region's lighthouses as the sun sets, with the one who knows them best. There is every variety of lighthouses within easy reach of New London harbor. New London Maritime Society owns three of them. Boat tour includes free daytime admission to the Custom House Maritime Museum.
For tickets and info, http://www.brownpapertickets.com/event/2820719
One hour Full-Moon Boat Tours- New London Maritime Society
Custom Maritime Museum, 150 Bank Street
Wednesday, June 7, 8:20-9:20 pm
Thursday, June 8, 8:20-9:20 pm
Friday, June 9, 8:20-9:20 pm
Saturday, June 10, 8:40-9:40 pm
Max 6 people per tour (3 person minimum)
$40, $35 NEFA attendees, $30 children age 14 and younger
Dusk is a beautiful and quiet time to be on the water. This lighthouse tour leaves New London as the sun goes down to view our local lighthouses at night, we they were built to be seen. Boat tour includes free daytime admission to the Custom House Maritime Museum.
For tickets and info, http://www.brownpapertickets.com/event/2820741

Picture My World Art Exhibit Opening Reception
Hygienic Art, 79 Bank Street
Thursday, June 8th from 6 to 9 pm
Picture My World is a student exhibition feature the work of emerging photographers and writers from ISSAC and New London Public Schools. Hygienic Art's Do The Write Thing/Picture My World program is a creative after school literacy program in a safe environment where students are able to expand their literary proficiency by learning with writers, tutors and artists at the Hygienic Galleries and Art Park. The program enriches literary education of students most affected by the lack of creative after-school opportunities. For more information, click HERE.
Opening Reception of APEX at Hygienic Art Galleries
Hygienic Art, 79 Bank Street
Thursday, June 8th 6pm-9pm
A celebration of some of the most inspiring living Connecticut contemporary artists
Apex is a new project produced by Hygienic Art Galleries which includes selections of Connecticut artists whose work is deeply admired by invited Art Directors and Curators across the State of CT including Real Artways Visual Arts Manager; Neil Daigle-Orians, Executive Director of New Haven Artspace; Helen Kauder, Yale Artist and Museum Director, Jock Reynolds and Hygienic Art's own; Vincent Scarano, Board President.
APEX aims to be a celebration of some of the most inspiring living Connecticut contemporary art and artist and will include painting, sculpture, photography and installation art. This varied sampling of exceptional work will provide a diverse display that demonstrates the rich culture of art and artists from throughout Connecticut.
For more information, click HERE.
Marquee Gallery- Exhibit: Economy of Art
74 State Street
Thursday June 8th – Sunday June 11th Noon to 6pm
On display will be an eclectic selection of Marquee Gallery's local to international represented artists and invited artist's works. A number of the artists will be giving live demonstrations of various creative projects and techniques they implement in their artwork. Drawing, painting, sculpture, print making, and photography, the artists will show how they utilize art and creativity to make a living doing what they love. Included will be a group of young emerging artists from Lunch Money Prints, a budding subscription based art prints startup. Headed by Marquee Gallery artist Christopher O'Flaherty, their goals are to give added support and outlets for emerging artists to sell prints and original works & make fine art affordable to first time collectors.
For more information, www.marqueegallery.com
Lyman Allyn Art Museum Workshop at New London Parade Plaza
Friday, June 9th
Time: 2-4 pm
Parade Plaza, Free
The Lyman Allyn Art Museum will present a family friendly participatory workshop in conjunction with local artist, Kat Murphy. Children will have the opportunity to create their own works of art during "Fun With Foam: Sculpting New London with the Lyman Allyn Museum."  The theme of the sculptures to be created will be the David Smalley exhibition that will open at the Museum on June 3.
2017 New London Festival of Creativity and Innovation
New London's first celebration of creativity and innovation through a series of events including City-wide visual art installations; A blues fest that captivates New London's musical history throughout downtown venues; Exhibits & performances on the Parade Plaza showcasing human ingenuity, makers and performers. Unique multimedia gallery exhibitions highlighting Connecticut's diverse artistic environment; Historic tours, unique restaurant specials and more. June 8-11
Blues & Brews – June 10-11, Saturday: 12pm-10pm & Sunday: 11am-6 pm
Celebrates New London's musical history. The weekend features dozens of performances spread throughout downtown and celebrates the musical history and essence of New London. The event features Connecticut Blues performers and craft beer.
Tickets can be purchased online OR on the day of at Hygienic Art Park. Tickets purchase online by July 1st will be e-mailed. Pick up map and guide at Hygienic Art Park upon arrival.
Ticket includes access to all participating Venues + Brew Specials/ Tastings at Hygienic Art Park/ Lodging Deals.
CCX ATTENDEES 50% off all ticket prices!
REGULAR TICKETS Online or Day-of:   $30.00 Two Days, $20.00 Saturday, $15 Sunday
For tickets and information, click HERE
Creatinova – Connecticut Artists, artisans and makers sell their wares and demonstrate their making-process in downtown New London's Parade Plaza.  June 9-10
New London Storefront Project– A partnership with business, artists and creative teams will populate select State Street storefronts in the City with temporary public art installationsthat engage and energize the urban environment. These installations merge art, culture and the history of the City for the benefit of everyone who lives, works and visits New London.
Ribbon Cutting: The public is invited to join Mayor Passero who will officiate at the Ribbon-Cutting of the 2017 New London Storefront Temporary Public Art Project. 4:15 pm, Thurs., June 8 at the Center Garde Arts Center in front of 309 State Street, the Garde Art Theater, one of the sites participating in the project.
Fifteen artists and creative teams including an artist led team with students from Bennie Dover Jackson's Middle School Enrich After school program will fill over 25 windows on New London's State Street concentrated between Union and Huntington. The 2017 NL Storefront Project is a grassroots initiative supported by artists, property owners and downtown organizations.
Connecticut Landmarks and Hempsted Houses
Juneteenth Celebration
Saturday, June 10th from Noon to 4pm
Free
Hempsted Houses 11 Hempstead Street New London
Juneteenth commemorates the end of slavery in the United States announced by Union soldiers in Galveston, Texas with news that the Civil War had ended and that the enslaved were now free. The celebration will feature storytelling, drumming, gospel music and dance – and a dash of history – with art making opportunities for children and adults and tabling by New London's non-profit community.
Admission to the Hempsted Houses and Juneteenth is FREE as part of CT Open House Day.
For more information, click HERE.
Lyman Allyn Art Museum, New London
625 Williams Street, New London
Open Tuesday – Saturday: 10 AM – 5 PM and Sunday: 1 – 5 PM
In Their Shoes Exhibit (June 1 – July 16, 2017)
In celebration of Safe Futures 40th anniversary, the New London-based organization will be mounting an exhibition in Lyman Allyn's Glassenberg Gallery. The exhibition springs from the question, "how can a pair of shoes or 170 pair of shoes bring awareness and HOPE to the survivors of domestic violence?"
David Smalley Memorial Exhibition (June 3 – August 13, 2017)
This exhibition will showcase the range of styles in which Smalley worked. He typically worked in series, and the show is organized accordingly; kinetic works, bent wood pieces, experiments in 3D printings, a somber series of bronze shipwrecks and finally a mesmerizing "Spartina" series. The outdoor component of the exhibit will give visitors the opportunity to engage with eleven of Smalley's large-scale sculptures.
Thames River Water Taxi- Thames River Heritage Park
Sites within the Heritage Park are linked by the Thames River Water Taxi Friday through Sunday throughout the summer and early fall.
The Schedule runs on an hourly loop between the three stops- City Pier, Fort Trumbull, and Fort Griswold.  The time for each stop is on the minute after the hour.
Fort Trumbull – (10:00, 11:00 etc.)
New London City Pier in the Historic Waterfront District, 20 Minutes after the Hour (10:20, 11:20 etc.)
City of Groton on Fort Street, Fort Griswold – 40 Minutes after the Hour (10:40, 11:40 etc.)
Three Location Ride – $10.00 / $5.00 (Children & Active Military)
All Day Ride – $15.00 / $10.00
For more information, schedule and tickets, click HERE.
AROUND THE REGION….
Connecticut Open House Day
Saturday, June 10th
One-day statewide event is designed to showcase Connecticut's diverse world of history, art, and tourism. Free and discounted admission, specials, visitor incentives and more at more than 200 sites in CT.
Listings coming soon…
Florence Griswold Museum, Old Lyme (about 15 minutes from New London)
96 Lyme Street, Old Lyme
June 9, 10 and 11
Flora/Fauna: The Naturalist Impulse in American Art (June 3 – September 17, 2017)
The 70 works survey the history of artist-naturalists and environmentally-conscious artists in America beginning with the Peale family, John James Audubon and their contemporaries and examines the naturalist impulse in works by the Hudson River School, American Pre-Raphaelites, and American Impressionist artists.
On June 9-11 (just in time for your visit) stunning flower arrangements created by artists and floral designers interpret works of art from the exhibition.
Open Tuesday – Saturday, 10-5 and Sunday, 1-5
Admission: $10 Adults, $9 Seniors, $8 Students, Free to visitors 12 and under
Mystic Seaport Museum Sea Music Festival
June 8-11
75 Greenmanville Avenue, Mystic
Mystic Seaport is proud to host its 38th annual Sea Music Festival, one of the world's premier sea music events. This year's roster of performers includes musicians from Australia, England, France, across the U.S. from Tennessee to Michigan and the Northeast. The weekend's festivities include concerts, special performances for children, instructional workshops, and a unique opportunity to witness sea music at work aboard our historic vessels.
Evening Concert: Adult non-member – $35
Two-Day Pass – This pass includes two days of Museum admission (Sat/Sun), access to all on-grounds daytime concerts and workshops as well as entrance into the Friday and Saturday evening concerts. Adult non-member – $90
Slater Memorial Museum, Norwich (about 20 minutes from New London)
June 11 – August 4, 2017
108 Crescent Street, Slater Memorial Museum at Norwich Free Academy,
Museum Hours- Tues – Fri: 9am – 4pm and Sat & Sun: 1pm – 4pm
Admission- Adults: $3 Seniors: $2 Students: $2  Under 12: FREE
Local Color: Stories of Our Members, an exhibition of Fiber Art
By members of SAQA (Studio Art Quilt Associates): from Connecticut and the Northern California/Nevada region, showcasing recent, innovative works reflecting personal stories, regional history and literary references. Free and open to the public
Opening Reception: Sunday, June 11th at 1pm