New London Arts Council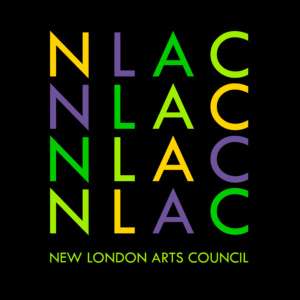 New London Arts Council

The mission of the New London Arts Council is to "encourage and serve a vibrant, inclusive arts community."
NLAC meetings will be open to all engaged in the arts in the City. An interim council selected by the steering committee will serve for the first six months to build membership and community support leading to selection of the first official council leadership later this year.
Virtual Arts Party Happy Hours on Wednesdays at 4pm! 
A casual online meet-up via Zoom to connect the New London arts scene featuring 2 NL arts guests each week
The Arts Party Happy Hour via Zoom offers folks an opportunity to reconnect during this time of isolation. Each week two featured artists will have a flexible 5 minutes to share a sample of the artistic work they have developed with a chance for attendees to interact with questions. The artists featured will be from across the disciplines of visual art, music, theater, the written word, and film. The whole happy hour will last no more than 45 minutes. Why not grab a beverage and join some fellow artists for a few minutes this week?
More info and to sign up and join, click HERE.
NEXT MEETING of the NLAC will be held on Tuesday, May 19 at 5pm via Zoom.  Meetings are being held regularly during the pandemic. Please contact Diane Barcelo at dianebarcelo@gmail.com for mtg information and link.
The group has established pages on Facebook and Instagram where updated information will be posted regularly and those interested in more information can reach out with any questions.
Click on the above to sign up to receive information, news and meeting information from the New London Arts Council!
New London Arts Council (NLAC) Information and Documents
NLAC General Information and FAQ 
NLAC Councilors Contact Information
Note: This is a temporary website for NLAC. You will be directed to a permanent website once ready.